The Global Lingo
Villa Pianciani. Italy (Spoleto, Umbria)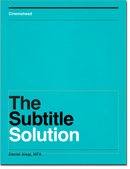 In this one week Lab, you will learn how-to translate and format professional subtitles for film and media.
The workshop is lead by Daniel Alegi, author of The Global Lingo of Subs , TED Translator and subtitler of some of the world's top animated TV series.
The workshop participant will learn:

- to grasp the tech basics of subtitles (subs).
- to translate within the timing challenges and rules of subs.
- to spot, translate, re:play and check quality 
- to find personal "subtitle solutions"