Short Film
Villa Pianciani. Italy (Spoleto, Umbria)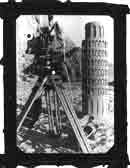 The "Short film" Workshop runs for 7 days and is a full immersion in film-making practices. Participants need no previous experience in script-writing  or film production, but energy, curiosity, open mind and good humour are definitely required.  Each participant takes an active individual role in a number of creative and technical roles during different phases of the process, from idea harvest to story development, to shooting and final cutting.
A workshop begins from conflicting ideas proposed by the film-makers. Everyone works on both sides of the camera, acting and directing sequences shot in different locations. Everyone contributes creatively to this intensive process, because we were able to create a safe space in which "mistakes" or differences of opinion become solutions in the evolving film. Participants learn to critique their own performances and offer feedback for furthur development.   The goal is to complete an original short film together and for participants learn a key set of practical tools and principles in the film craft. 
While no extra equipment is necessary, a laptop or won camera is always useful. Room and board and all production costs are included.
-The participant is the writer, the cameraman, the filmmaker.
-The content is based on existing texts, poetry and requires no further writing.
-Own camera welcome but not required.